A reader recently reached out to me and wanted advice for plus size guys. Our conversation was mostly about fit and it inspired me to write this post. I work with all types of men including those who wear XXS to those who wear 3XL and I understand the struggle in finding the right clothes. Fit matters no matter what size you are.
Before I begin, I just want to say: no matter what shape or size you are, you are amazing the way you are. Gone are the days where women need to feel like they need to be a size 0 or men need to look like Brad Pitt in Fight Club. Instead, it's all about individuality, personal style, how your clothes fit and your character that gets compliments and positive attention.
I also want to acknowledge brands that have been introducing inclusive sizing in their clothing and ad campaigns. In fact, I've been seeing some plus size style bloggers I follow pop up more and more in ads for brands like Bonobos, Target, Express, DXL, ASOS etc.
I want to dedicate this post to all my plus size fellas out there. I appreciate each one of you and would love to make shopping fun and easy for you.
In order to achieve a modern style, clothing should fit well, which often gets confused with "my clothes should fit tight". Instead, when you are plus size, there's a sweet spot between too loose and too tight you want to nail. In this post we'll talk about how to achieve a fitted look by honoring body proportions and tips and tricks for appearing more stylish.
Lesson 1: Balance is Key
Use your clothing to balance your upper and lower body. What does this mean? If you carry more weight on the top part of your body, don't go for tight skinny jeans. Why? This creates the "popsicle" effect – two small sticks at the bottom (legs) and way more volume at the top (upper body). Instead, ditch the extra tight jeans and go for a tapered leg or slim fit. "Tapered" means the pants slowly slim down from knee to ankle, giving you the slim/skinny look, without being too snug in the seat and thigh. You can get a tailor to taper any of your current jeans that you feel have too wide of a leg.
Below is an example of a balanced look. The top body and bottom work well together because neither is too tight or too loose compared to the other.
Photo Credit: @chubstr
Below is an example of what you should avoid. The pants are too slim at the bottom and don't balance with the top half of the body. Instead, if the leg opened up a bit, there would be more balance.
Photo Credit: Pinterest
Lesson 2: Clothes Should Follow Your Body, Not Hug It
Wearing clothes too tight isn't going to achieve the modern look you think it might. Instead, tight clothes hug and define each curve, which can sometimes be unflattering. Instead, get clothing that follows along your body. You want your clothing to slightly shape you, but still leave things to the imagination. For example, a t-shirt should shape your shoulders and arms, but when it comes to your stomach, it should falls straight, not define each curve.
Tip: You might need a tailor to take in your shirt to give you more shape – whether it's in the waist or length. This is a better option than buying a shirt slightly too tight.
The example below shows how a t-shirt can shape you, but keep things smooth and straight.
Photo Credit: Pinterest
This is an example of what happens when a shirt is too tight. It starts to define each curve.
Photo Credit: Pinterest
Below is an example of jeans being slightly too tight. Instead, like the examples above with slim or tapered jean, you want a little more room and your clothing to follow your leg, not hug it.
Photo Credit: ASOS
Lesson 3: How to Tuck Your Shirt
You can totally tuck in your shirts. However, make sure you wear your pants below your stomach for a more flattering look when tucking. Otherwise, your pants will cut you right in the middle of your stomach creating extra dents and folds in your stomach.
Photo Credit: Pinterest
Tip: Cuffing your tapered pants, like in the photo on the right, is a stylish touch you can add to your look.
Lesson 4: Untucked Length
You can also untuck your shirt, but be careful with length. You don't want the shirt too long or it will make you look like you have shorter legs. You may have to get your shirt hemmed to the right length to achieve this modern look. The length int he photo below is perfect (middle of your zipper)
Photo Credit: Extra Inches
As you go up in size, manufacturers sometimes make shirts longer. This doesn't mean you have to wear your shirt that long. When considering the length of your shirt, think about two things: your height and what looks flattering.
If your shirt is going past your zipper and into thigh territory, there's a chance it's too long. You don't want your upper body to appear way longer than your legs. In the example below, the shirt is too long. I want to see it about 4 inches shorter.
Photo Credit: Pinterest
When deciding the length of your shirt, you should also consider what is going to look flattering. If you carry more weight in your upper body and your jeans hold the bottom of your stomach, consider having your shirt cover that area for a more flattering look. It could be your pants are a bit tight in the seat and thighs if your lower stomach is well defined in your pants.
The example below explains what I am referring to when I say your pants hold the bottom of your stomach. This example is with joggers and it looks okay because the joggers aren't super tight at the top. However, once you get into jeans, especially skinny jeans with stretch, it will start to define each curve in the bottom of your stomach. That is the part I recommend covering with your shirt. Again, you can avoid the unflattering definition by going for pants that have more room in the seat and thigh.
Photo Credit: Pinterest
Lesson 5: Create Vertical Panels
Not only are vertical panels elongating, but they look stylish too! What I mean by vertical panels is wearing an open shirt or a cool jacket to break up the top half of your body into vertical lines.
Photo Credit: Extra Inches
Lesson 6: Layers are Awesome
Not only is layering fashionable, but its great for plus size men. Jackets pull everything together and create vertical panels for a more streamlined look. Jackets make a person look more stylish anyway, so as soon as fall rolls around, layer away.
Photo Credit: Pinterest, @adydelvalle
Lesson 7: Yes, You Can Wear Patterns
Don't be afraid of wearing patterns. Patterns add style and individuality. However, it is good to note that bigger, bolder and high contrast patterns will make you appear bigger. If you don't want to appear bigger, go for low contrast patterns (I.e. small spaced out prints, dark on dark patterns etc.) If you love bold shirts, you can create balance by not going too tight in your jeans and/or adding a layer on top to create vertical panels. You can also consider leaving your shirt open and wearing a t-shirt underneath with bold patterns like the photo in the vertical panels example.
Photo Credit: @StayHomme
Lesson 8: Add Flair Through Accessories
Have fun with things like patterned socks, bracelets, hats, belts, suspenders, cool backpacks, shoes and scarves. These little details are what makes someone appear stylish. Even if you want to wear dark colors, adding in accessories makes you look more modern and fun.
Photo Credit: The Big Fashion Guy
Lesson 9: Customize Your Clothing
There are more and more brands creating inclusive sizing, which is great. However, if nothing is floating your boat, check out custom options. Brands like Pacific Issue offer nice custom button down shirts for under $150. You will be wearing these clothes for a while, so consider your cost per wear.
If you don't want to go custom, not a problem. Find clothing off the rack and then get it tailored to fit YOU. Alterations are not expensive and will make you look so much more put together and polished. It's worth the extra $10-$20 you're putting into your clothing. You can easily make pants and shirts shorter and take in shirts and leg openings. It's hard to adjust shoulders on a shirt, so keep that in mind.
Lesson 10: Follow Stylish Guys on Social Media
Get a dose of inspiration from plus size guys making moves on instagram. This is great way to see how people are wearing different pieces and how they look on them. The point is get inspired and ideas on what you can add to your style.
Here are a couple of my favorites…
LOVE this guy! I love his body positivity, style, smile and energy. Every time I look at his photos, I get inspired.
Claus dresses so well! His modern and casual style is one to take note of. I love using his examples in my blog posts.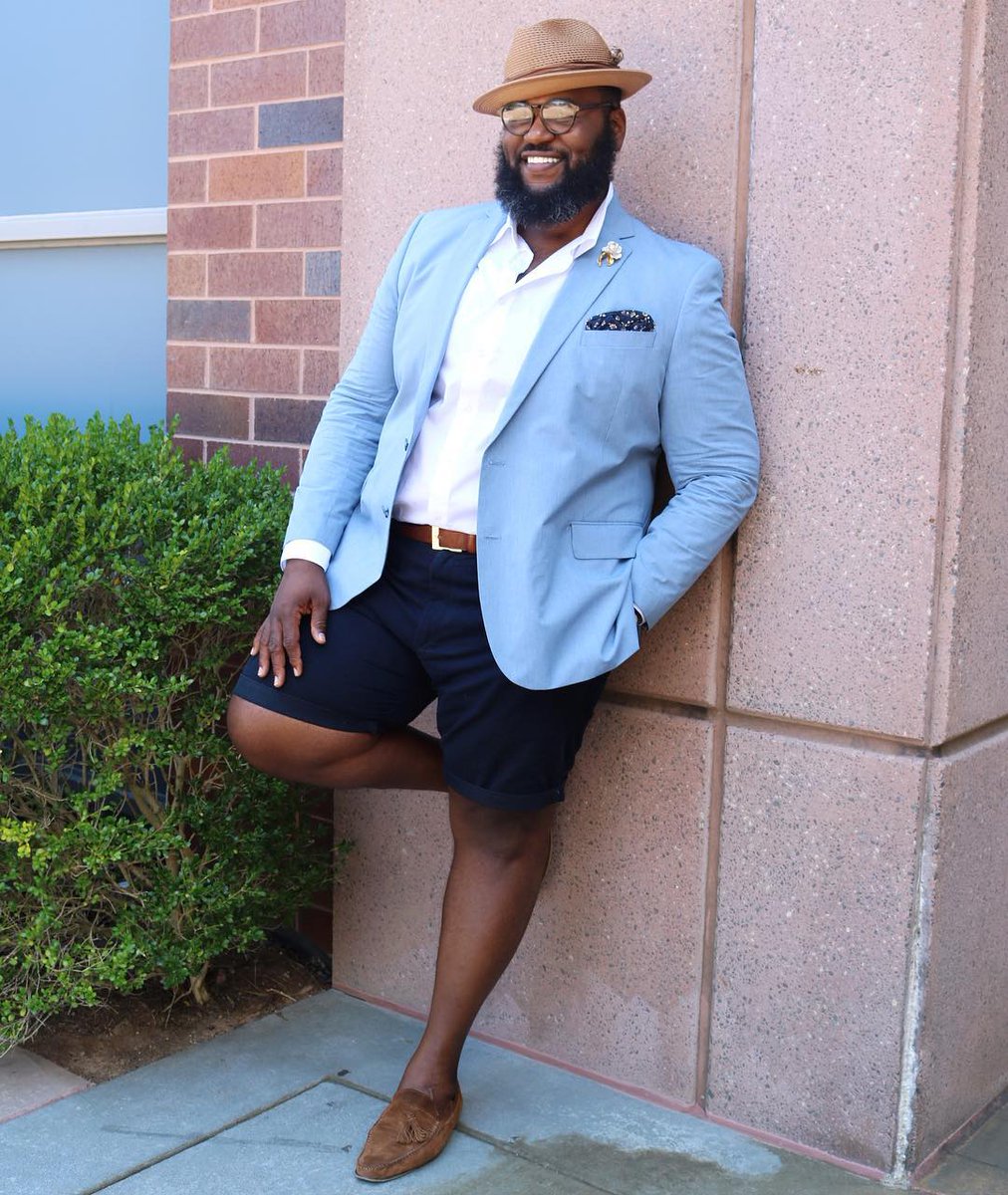 Michael-Anthony has a classic style with hints of boldness. I love how we incorporates accessories in his look to add flair.
Hope you enjoyed this post! If you have any questions, feel free to ask in the comments.